And now, a message from our sponsor...
Strict Standards
: Only variables should be assigned by reference in
D:\Inetpub\rogerbaker\templates\yoo_inspire\html\config.php
on line
13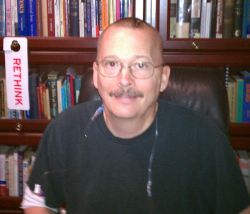 I'm sorry it has taken so long for me to update you. But here is the latest.
About 8 weeks ago (mid-June) I discovered my pain in the surgical area becoming more painful (inside the brain.) I became increasingly uncomfortable. Big x-rays from the NIH confirmed that I had a growing leak of what I think was a mix of blood and brain-fluid building up in my skull. By the end of the third week, the surgeons decided to drain everything.
What was supposed to be a drill-drain and a 90-minute surgery went much longer. I was hospitalized about a week while starting to slowly straighten out and lose the pain. I was released but have a lot of drugs going in via IV every day. I have a semi-permanent plug on my right arm that allows me to hook-up IVs of drugs easily. Good thing, too - I have five dosages of various drugs going in every day, plus other fluids to clean the line and disinfect it. Call it a lot of liquid via the veins.
Thanks to the semi-permanent plug in my right arm, changing IV bags and adding the necessary syringes of cleaning surprise wasn't a skilll I had, but a few days later I could change my own and so can Michael, thanks to training from my favorite colonel (Sue, if you didn't know). I have changed a waistbelt pack into my IV holder and I can generally move around with a bag or two of fluids on me while the plastic tube runs from the waistpack to my arm. Looks suspicious and I am sure people suspect I'm terminal just by looking at the arrangements. Well, I am terminal, but everyone is. Haven't seen any verified records of people living forever.
Okay, more IVs until the end of August. No chemotherapy until the IVs stop. Crazy, but I really want the chemotherapy and want to drop the IVs. The IVs mean that driving is limited (probably to local when I feel less than well), and that air travel is out (no liquids or IVs generally allowed.) Sigh. Wanted to get to Texas before September.
I am still working on my dissertation, but making s-l-o-w progress. I get a page here and there, but I easily need to crank out 80+ pages.
Okay, other news.
Sue is still the amazing angel of mercy and labor. She is running the household and got laundry done last week/this week after I sort of folded from too much heat and activity. I am starting to recovery, but it is slow. Sue constantly works on me with constant patience and love. She is looking at her next adventure in labor, and has had her resume written. She's ready for the next career.
Michael has matured in many areas and is (usually) much more mature than his classsmates headed for the 6th grade. He has returned to fencing and is getting back into the skill and techniques associated with the sport. He earned several merit badges at camp, and will be dubbed a "tenderfoot" at the next Boy Scout meeting.He is much calmer and mature this summer.
Matthew is growing and is reading more and more. His computer skills are excellent and he can handle more basic computer tasks as needed without assistance. He had a great baseball season and will play again this fall. He too is more mature than his classmates. I think he has puzzled out the fact that his dad is deathly ill, but he's not ready to be saddled with that knowledge, nor does he deserve the burden.
Okay, all I got. Sorry for breavity.