Wow! Doin' Good!
Strict Standards
: Only variables should be assigned by reference in
D:\Inetpub\rogerbaker\templates\yoo_inspire\html\config.php
on line
13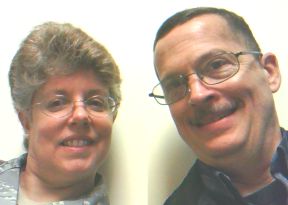 This is Halloween, and okay, there's only one way to say it - WOW! I am doing good! Great, even!
Sue & I journeyed to Bethesda to the NIH Research Center that has been following my combination of treatments for both multiple sclerosis and brain cancer. An MRI two months ago looked very promising, but I had just completed 30 days of constant antibiotics (and the high-quality sort, 6+ IVs every day!) The MRI performed this week, after two chemo sessions and no more antibiotics shows no cancer and some healing in the passages and blood flow. I've improved healthwise! Even better is that since the start of a different pain medication I have felt much better, only having two major headaches since I started the new one six weeks ago. Up to now, I've had a serious headache for 5-6 days a week since the July surgery. I am doing great!
The biggest part of this is Sue was with me, receiving the same reasurrance that things are progressing well. My original prognosis was 12-18 months. I'm now at 8 months with no sign of cancer recurring, a very good sign. I'm thinking I will make it to St. Patrick's Day without any signs. We'll wait and see, and to my Roman Catholic friends, if you want to beg St. Patrick to keep an eye on me, I'm for it entirely.
I am pretty productive these days. I have kept up with the laundry and evening meal preparation most days, paid the bills, and generally fufilled the tasks that were mine a year ago.I am also working on the long-overdue dissertation, and I am about done with research except for minor details and I have a good 40 pages written of the 120 or so that I need to write. So that's about 1/3 - 1/2 done.
So this is me at Halloween, with Sue, awaiting what we desparately hope for is good news. It was better than that, it was great news!