Heading Towards Christmas
Strict Standards
: Only variables should be assigned by reference in
D:\Inetpub\rogerbaker\templates\yoo_inspire\html\config.php
on line
13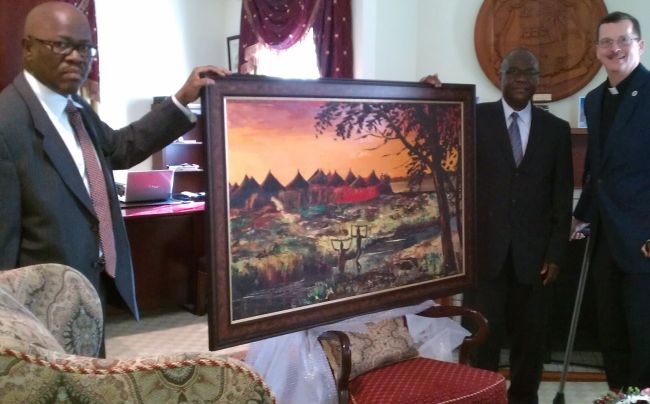 What a day! And what excitement! After a good five months of planning, my grand trip to the Liberian embassy came true today.
For those of you who don't know anything about Liberia, let me share just a bit. Liberia is a small west African republic started by former slaves who had been captured in Africa. It was the first republic in Africa, and although it has seen tragic changes in government before the change of the century, much has been corrected and the country is slowly being rebuilt.
My parents and I resided in Liberia for two years, from June 1972 and June 1974. I was in the midst of shifting into the teenage years, and the things I saw and did in Liberia effected me through my lifetime. My parents had collected many pieces of native art, but they also discovered a local oil painter named "Bakari" whose canvas images truly engaged the mind's eye. One of these paintings, a portrait of a setting sun, is priceless (my guess would be in the $100K range, but who knows?) This portrait has been a centerpiece in my parent's home for most of the last 30 years. During a shift in housing, my mother offered the painting to me. I accepted it to take to the Liberian Embassy. The people of Liberia now own one of the greatest artworks depicting their country.
Ambassador Sulunteh received me in his office graciously and conversed with me while one of his aides brought up the portrait. I had found a framing shop used by the U.S. Dept. of State and had them frame the portrait as the national treasure it is. It looked very nice as the ambassador unwrapped the artwork. It is wonderful when a nation's treasures are returned to them. This artwork, depsite being purchased by my parents, deserves to be kept and displayed as the national treasure it is. The ambassador has not decided yet where to display the painting, but it will be displayed in a prominent place in the embassy, along with a plaque acknowledging the donors.
So, after five months of planning and staging, the artwork is where it belongs, and I have had a wonderful day thinking about the growing-up days in Liberia. It is so nice to be able to set little things right in the world. This is one that will touch many hearts. Thanks, Mom and Dad, for allowing me this opportunity.