New Year and Good News!
Strict Standards
: Only variables should be assigned by reference in
D:\Inetpub\rogerbaker\templates\yoo_inspire\html\config.php
on line
13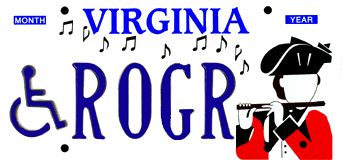 Those of you who follow me on FaceBook will notice that there is more information here than elsewhere, plus photos. If you've taken the time to look me up, I figure it should be a good show. But remember, I still have limits.
Yeah, that's my license plate. Like it? The Facebook-only crowd hasn't seen it.
I have had a much better week than I ever expected. The ninth day of Christmas begins the 7th run at chemotherapy and a report from the docs that my MRIs still look clean! Like all cancer patients, I still have a long way to go, but it looks like I am making very good headway. There are some problems upcoming with the prolonged use of the drugs I have been prescribed. The danger isn't immediate, but in the future I can expect a change to the medications. I'll post the details as I learn them. The meds I take for MS are very simplistic and only require a daily injection (and, thanks to the American tax-payer, cost me nothing.) So while I am curious and hopeful, this issue isn't deeply affecting my thinking. Then again, these days, what does?


It was March last year that I had surgeries #1 & #2, and my release was right after St. Patrick's Day. I am planning a one year small celebration on St. Patrick's Day, the anniversary of the potentially bad news. My new goal is three years survival (the original projections were 12-18 months.) I will be doing chemo for a long time - the projection started at twenty-four months (if I lasted that long) and hasn't shifted - but the good news was just so wonderful! Another 60 days until the next full exam, about two weeks before the St. Patrick's celebration.

I start chemo tonight at bedtime. Not my favorite thing, as chemo comes with its uncomfortable cargo (fatigue, pain, and confusion being my big set.) But I have the support of Sue S. Baker, Colonel, USAF (retired) as my one who holds my hand, protects me from myself and others, and keeps me focused.

Had a very good week working on my doctoral dissertation. I uncovered a great work, "Interpreting the Parables" by Archibald Hunter. People who know the arena in which he's speaking will get a lot of humor in his writing, as the sly theologian's humor comes out on almost every page. Of course, it is pointless to tell most of the jokes, because I don't usually hang with theologians as chat mates. But... if you know a theologian, get a copy of the book to them as a present, they'll enjoy it if they actually read it. :-) If you're a theologian, try to find it on eBay - I paid less than $5 for my copy.

One of the things I have noticed lately is that many of the authors of Christian theology books haven't checked their references or have decided not to check what research assistants have provided. I was always taught that one reference amiss was reason enough to shift a grade down by a letter. I am documenting my finds in footnotes within my paper, since a bad reference effects all that is written with it. I'm ratting out these people! :-) Really, though, I am doubtful of many of the references I see, and I never use a two-level quotation (like George Washington said in his biography, "Washington" by Alex Baldwin.) Silly - find the original and quote directly. What has happened to today's academia?

Prayers the next 5 days (the chemotherapy days) are deeply appreciated. I take the stuff right before sleeping so I can usually sleep through most of the reaction. Lots of fluids and trying to eat adequately are my challenges. I don't feel like eating during the chemotherapy days. Sue treats me to all sorts of things during those days, even offering meals in bed if I desire. She's wonderful, and I am moore deeply in love than ever.

I also appreciate prayer requests. Email, post on Facebook, whatever works for you. Prayers when I can do little except pray get extra attention and trust. Please let me know if you need prayers. What a wonderful thing to be asked to do, to pray for someone! It is such a gift, a wonder, and a blessing. For me it immediately raises the question, "are you part of the answer to this prayer?" It is truly delightful and wonderful when you realize that you ARE part of the answer to the prayer request. A real trust and blessing.

I plan to do a Q&A page next month (again) so if you have questions, email me and I will write your answer and then later share it with others who read this stuff. There are almost 200 people subscribed to this page - amazing! I call still remember the names of about 3 at a time (only two if my wife is in the same room.) I get occasional questions, but many people don't want to know about chemotherapy, cancer, and the ills & chills that come with them. I am willing to share, though. Fire away.

With love and thankfulness, I remain Roger/Rusty/Pastor Roger/etc.