Made It Through Chemo Again!
Strict Standards
: Only variables should be assigned by reference in
D:\Inetpub\rogerbaker\templates\yoo_inspire\html\config.php
on line
13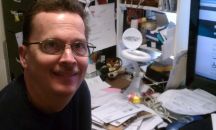 Here's the latest update: I am still here! It can be said better, though, so I will tell all. The chemo capsules (three of them) taste awful and are the last things I take before sleeping. I don't know what is in the chemo and if I asked, I don't remember anyway. I usually get very tired within taking the capsules and then I crash hard for about 2 hours. The hard part is when I wake back up in the evening. I try to relax and then sleep, but sometimes I can't reach that part and simply have a stretch of night where I lightly doze off and on. Sort of like taking a nap on a long airplane trip, never quite relaxed.
The best thing going on for me right now is finishing my doctoral thesis. I hope to have the bulk finished before the next chemo run. I am filling in several excerpts and opinions from books I have to complete the quotations I need. So far the paper has about 275 footnotes.
The idea in a theological paper is to state the obvious and then hide it behind references that no one can easily find. Ha! I have found at least 5 major errors in papers I have as references, and each error gets a unique footnote pointing out another author's error. I am sure someone will find errors in my document!
I have no idea what I will be doing post-doctoral dissertation other than taking a break. I can't preach every Sunday (haven't preached in three years, most platforms violate the ADA requirements for easy access). I might occasionally sub for one-church, one-service preachers in the local area. But I need to start looking over the horizon.
Big celebration for me will be the 1st anniversary of being told that I will expire in 12-18 months. One other doctor said 24 months. With God's help, I hope to bust the limits for years! (or I'll take four years, too!) I am still very encouraged. For me, the next MRI run (Feb 25, with results Feb 28) is a big stepping stone. This will show one year without any further growth if best results. Usually the one year mark is where the problems start to show up. I am very hopeful.
I have received many calls, cards, letters, emails, and Facebook notes. Many thanks to all who send me messages, they really help. I am working hard. When you pray for me, please also pray for my oldest sister who is doing the same thing in Texas – chemo, that is. Many Thanks! -Roger